Knob Creek Small Batch Kentucky Straight Bourbon is produced at the Jim Beam distillery in Clermont Kentucky. Jim Beam is in turned owned by Beam Suntory of Osaka, Japan. The whiskey is aged for 9 years in white oak barrels and bottled at 100 proof.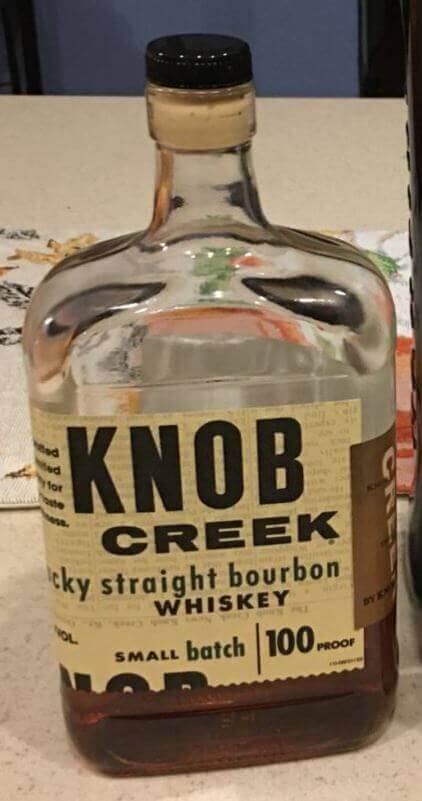 The nose on this Knob Creek Small Batch is strong. Not in a bad way, it is just very in your face, or in your nose I guess. The first note is strong burnt marshmallow and sugar that hides faint hits of vanilla under it. Surprisingly there isn't really a lot of alcohol on the nose, which I was expecting given that its 100 proof.
The next surprise was on the tongue. I was expecting the same strong notes from the nose to come through on the palate, but it was actually more subdued. There is brown sugar and marshmallow, and I found they did stick to my tongue. From the moment this dark Bourbon touched my tongue there is that sweetness that gets a touch of leather on the finish. I couldn't taste any of the Vanilla though. It was hinted at on the nose, but I just couldn't find it on the tongue.
I'm not sure if it is the proof and the sweetness that didn't seem to work for me. While Knob Creek Small Batch is 100 proof, it wasn't really the alcohol I didn't like either. It was just something about how the burnt sugar stuck to my tongue. A nice long finish is awesome, but if it hangs around too long it's not quite as enjoyable.
I did however find that a few ice cubes really helped to cut down that sweetness and helped to soften the finish. Knob Creek Small Batch earned itself a 49/100.
Color
Dark amber and brown.
Proof
50.0% ABV
Pros
The strong nose is oddly enjoyable.
If you like burnt marshmallow, you will love this.
Cons
The finish leaves something to be desired.
Really just has one note on the palate. The burnt sugar overpowers everything else.