Proclamation Irish Whiskey has some big statements to live up to. Just look at how Historian, author and publisher Mícheál Ó Doibhilín is trying to set my expectations:
"We wanted to celebrate Ireland's independent spirit through a quality Irish whiskey, one that also tells the story of some of the unsung heroes of this time. Proclamation Blended Irish Whiskey pays tribute to the three printers of the Proclamation, William O'Brien, Michael Molloy and Christopher Joseph Brady and acknowledges the important role they played during a hugely significant time in Irish history."

-Mícheál Ó Doibhilín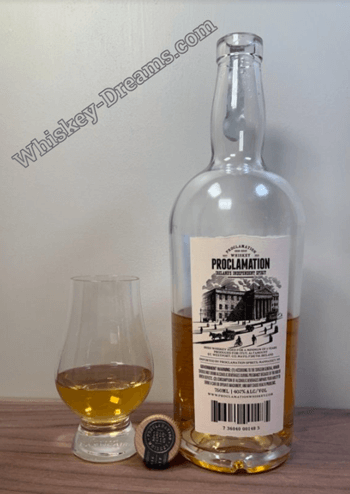 That is a lot to live up to for a blended whiskey in the $30 realm. Let's see how well it does.
The Nose
Proclamation is quite pleasant on the nose. There are sweet notes that hint at butter cookies that turns ever so subtlety to leather.
The Palate
The mouth feel is clean. The first thing I appreciate is that sweetness but it quickly turns to leather and just a hint of tannins from the time spent in the barrel. The distiller says they blend a "touch of sherry-finished malt" to the whiskey and I do appreciate it at the finish. There is just a touch of dryness.
Overall Proclamation Irish Whiskey is smooth and has a nice mouth feel. I enjoyed the touch of dryness from the sherry, but the finish trails off into leather that just kind of hangs out. It's not bad, it just seems to have a single note that it keeps playing.
Overall I'm giving Proclamation Irish Whiskey a 44/100. There are two primary reasons. The first is that the whiskey doesn't have a lot of complexity. Its nice, and its smooth, but it just doesn't offer a lot of body. The second is that I can get a bottle of Jameson Irish Whiskey for a few dollars cheaper, and it scored a 75/100.
The leather on the finish of Proclamation really made me want to add ice to it, and not to open it up. Given the price, I'd just buy a bottle of Jameson next time.
Color
Amber and iced tea.
Proof
40.7% ABV
Pros
Very smooth.
Perfect for new Whiskey Drinkers.
The touch of sherry adds a nice bit of dryness to the finish.
Cons
No real depth to the flavors.
Really has one note. Its a nice note, but it doesn't hold my interest for long.
The leather on the finish lasts too long.