I've read several rave reviews of Stranahan's Single Malt, and was looking forward to a wonderful experience drinking this American Bourbon.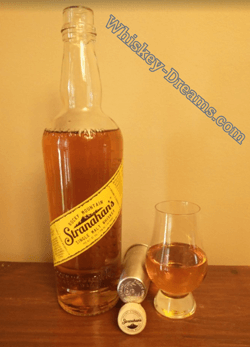 This is different, it is essentially an American single malt scotch made in Colorado. The nose on this whiskey is sweet vanilla that floats on a layer of marshmallow. With its clean sweet nose this Whiskey begs to be sipped.
This is where things fell apart a little for me.
I'm not huge fan of Scotch. I don't enjoy smoky, oily alcohol. I love bourbon and Irish Whiskey as long as they aren't peated. I had to look up Stranahan's Single Malt to make sure it wasn't peated. It wasn't. So I was surprised at how strong the burnt sugar and char notes are. Stranahan's Single Malt has a blackened, burnt marshmallow flavor that is just a little oily, and which coats your palate. If you like Scotch, you might find this whiskey to be quite enjoyable. For me, the burnt flavor killed the experience.
Stranahan's Single Malt is scoring a 27/100. I will finish the bottle in mixers, but I wouldn't buy something this expensive to make Manhattan's with.
Color
Rusty water with a touch of honey.
Proof
47.0% ABV
Pros
Who doesn't want to try an American Single Malt?
If you like burnt marshmallow, you will love this whiskey.
Cons
The char on this whiskey is super strong. It brings up blacked, burnt marshmallows and the flavor is super clingy.
The char is hard to escape, it is really overpowering the sweet vanilla.