Jameson 18 is a blended whiskey that is created from two pot-still whiskeys mixed with a portion of single grain whiskey. It's initially aged in ex-bourbon and ex-Oloroso sherry casks, then moved to first-fill bourbon barrels before bottling.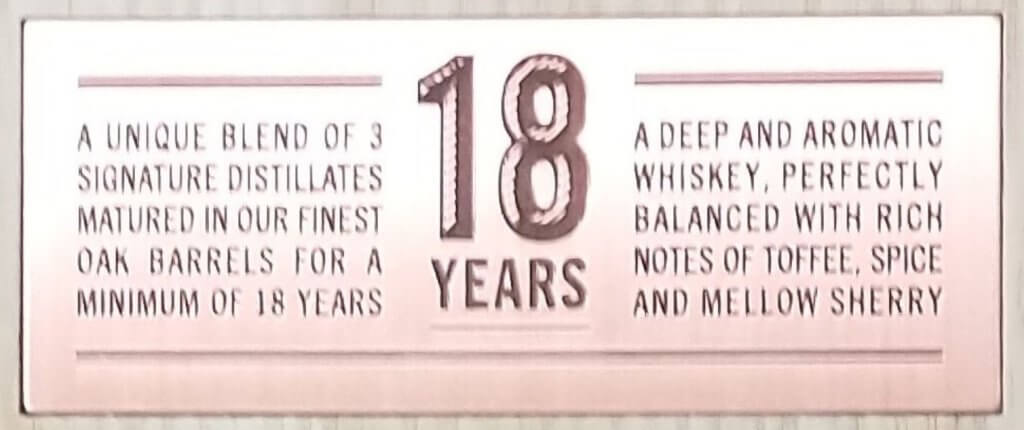 Let's start by saying that the last few weeks of my life have been completely nuts. There was a layoff, then a job offer, then a much better job. So a happy ending, but a crazy week.
How did I mourn friends and colleagues I will no longer get to work with and celebrate a new beginning at the same time? I went out and bought a bottle of this Jameson 18 Year.
The Nose
The nose on this Jameson 18 Year is surprising. I'm not sure what I was expecting, but it wasn't this. There is a pronounced ethanol/alcohol on the first sniff. It's not quite a burn, and it doesn't smack you in the face, but it is there, and it does overpower some of the other more nuanced notes. Those nuanced notes are wood and spice and just a touch of malt and sherry. Overall I was quite surprised with how mellow the nose was. I was expecting more complexity, but it just wasn't there. After about 15 minutes, the alcohol notes fell off and I did get a mix of honey with the malt.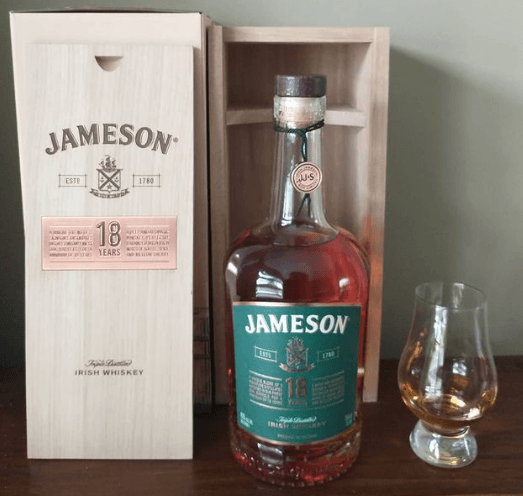 The Palate
The front of my tongue was honey, but the mid tongue and finish were all wood char and spice. I was honestly expecting a bit more smoothness and some butter cookies, which is what I associate with good Irish Whiskey, but the 18 Years spent in barrels clearly infused this with a lot of oak, char, and sherry. To me that finishes just a little rough.
I enjoyed this Jameson 18, but at the same time I have to take into account the price of this whiskey compared to its overall taste. I will drink this Jameson 18 every time you offer it to me – but it's not making its way into my Whiskey Safe and I'm honestly not likely to buy another bottle.
Why?
The packaging is really cool. The wooden box and bottle packaging is top notch – but whenever there is this much quality on the packaging side I worry about what I'm really paying for. I'm guessing a decent part of the $140 I paid for this Jameson 18 went into the packaging. That means that this whiskey doesn't quite stand up against some cheaper offerings.
Jameson Distiller's Safe scored a 95/100 and is in the $70 range. Redbreast 12 is in a similar price point and scored a 96/100. Both are roughly half the price.
The Score – Jameson 18 Year Irish Whiskey
That price to value makes it hard to score Jameson 18 with a high score. To be honest, regular Jameson is only $25 at the "super store" across state lines and while its not super complex, it is smooth and easy to sip. How do you compare a $25 whiskey and a $140 whiskey? For me, the taste to value has to be a part of that, and that is where Jameson 18 falls apart. Both these whiskeys score an 80/100, and that means that I'm going to choose the cheaper option here every time.
Is Jameson 18 more complex then regular Jameson? Yes, 100 percent. But not $115 worth, and that is the crush of the issue. I enjoyed sipping this Jameson 18, but I can't see myself buying another bottle at $140. The cost to value just isn't there.
Color
Sweet golden amber.
Proof
40.0% ABV
Pros:
Does Jameson put out any bad products?
If this is a gift or someone else is buying your drams, who's going to turn this down?
I had this whiskey on my bucket list, and now I can check it off.
Cons:
At $140 this is just too much as there are offerings at half the price that beat this hands down.
I recently found Redbreast 12 at $70 and at half the price I'd take that every time.
I had this whiskey on my bucket list, and now I can check it off – does that mean I'm one step closer to dying?
Scored the same as the $25 Jameson offering.