I found this bottle of Redbreast 15 after a year of trying to find a bottle that I didn't have to drive three hours each way to try. You better believe I grabbed it when I saw it on the shelf at a nearby store!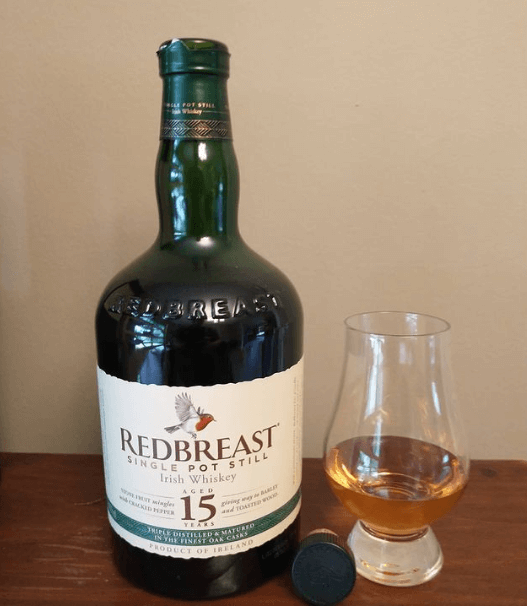 The Nose
The nose on this Redbreast 15 is a beautiful thing. The base is all malt and rich dark fruits that ends with a bit of nuttiness. Compared to Redbreast 12, this is stronger, richer, but very similar.
The Palate
The mouth feel of this Redbreast is slightly different than Redbreast 12. It has a dryer mouth feel, which I think is caused by the extra time spent in the barrel? Those extra years in oak gave imparted a bit more astringency that leads to a dry, slightly acidic finish. It's not overpowering, and it is balanced by malt, vanilla, and a touch of pepper. Underneath all that is the lovely butter cookies I love so much in Redbreast 12.
The Score – Redbreast 15
Redbreast 15 is a very enjoyable dram. It may seem strange that I'm giving this a lower score than Redbreast 12, but those extra years in the barrel change some of what I love about the original. Don't get me wrong, a 91/100 still puts this Irish Whiskey well above almost every other bottle I've tried, but it doesn't unseat my all time favorite Irish Whiskey, which is of course Redbreast 12. Will that change? I don't know, but so far nothing has come close.
Color
Deep amber and honey that captures the light perfectly.
Proof
46.0% ABV
Pros:
For the well trained Whiskey Lover this is a complex dram with a deep flavor profile.
Amazing nose.
I got to check something off on my bucket list.
Cons:
This hard to find, so if you do love it, you might not be able to find it.
At $100 bucks, the price to value drops off a bit.