One of my sons brought this bottle of Hill Billy Bourbon home as a gift because he knows I like to try new bottles. I now have to question if my son has it out for me. I ended up making a small modification to this bottle, updating the label From "Hilly Billy Bourbon" to "Hell Billy Bourbon".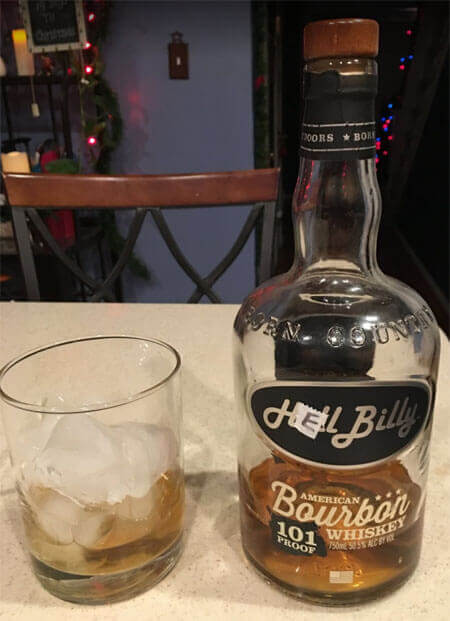 Even copious amounts o ice could not save this dram. Did I get a bad bottle? How in the world did this win awards? Because on their website this won several.
The nose had faint hits of vanilla and spice, but was overpowered by alcohol and wood char.
The mouth feel was clean, but for me this Hill Billy Bourbon was all jagged edges and burn on the tongue. Hill Billy Bourbon had a faint but very unpleasant antiseptic aftertaste that overpowered the more pleasant hints of vanilla.
I'm going to give Hill Billy a 9/100 as I can't really see ever getting another bottle. Yes, the bottle looks like I did some damage to it, but I was using it as a taster for new drinkers to give them an example of what Just Bad tasted like. It is always important to give someone a point of reference. Out of two dozen tastings, I did have one person really like it, which is great. Drink what you like and enjoy it, but for me this isn't it.
Spend a few bucks more and get a bottle of Buffalo Trace. Those extra five dollars make a world of difference.
Color
A morning pee when your quite dehydrated and may have eaten a few orange crayons the night before.
Proof
50.5% ABV
Pros
Cheap.
Great bottle if you are trying to show someone the difference between low end and high end Bourbon.
Cons
You get what you pay for, and this was cheap after all.
Tastes a little bit like someone poured some antiseptic into a glass of cheap bourbon.