I really enjoyed Tyrconnel Single Malt without an age statement. It scored an 87/100 so I was excited to try this Tyrconnel 16 Year. My brain intrinsically equates age with quality, but if you look at how Kavanagh 16 Year scored, you also know that's not always the case. Aging a whiskey can add depth, but there is also point where spending more time in the cask hurts the whiskey.
So how does Tyrconnel stand up to spending 16 years in a barrel? The time does add depth to this whiskey, but it also adds a few sharp edges. Don't get me wrong, this is a very Sip Worthy dram.
The Nose
Tyrconnel 16 Year has a wonderful nose. It punches you in your olfactory senses with malt, floral notes, and spice. The 16 years really concentrated the nose in a delightful way. It was a struggle to decide whether to sip or smell this dram in a Glencairn Whisky Glass.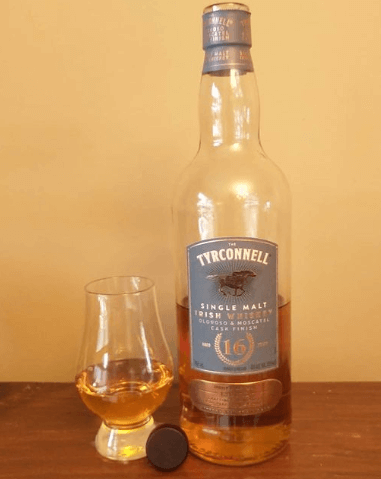 The Palate
The first thing I appreciated was the dryness, and then the malt. The time spent in Oloroso Sherry Casks seasoned with Moscatel wine really shines through on the swallow. If you like dry, this will blow your socks off. The finish is deep and strong. There is malt, and spice, and sweetness that really hits you over the head with their flavors. Tyrconnel 16 year is not subtle. These are powerful, strong flavors, concentrated over 16 years.
The Score – Tyrconnel Irish Whiskey 16 Year
I really enjoyed this Tyrconnel 16 Year and will not turn down a dram if your putting it in my hand, which is why this Single Malt Irish Whiskey scored an 88/100. It is Sip Worthy, but…it didn't make it into my Whiskey Safe. I'd drink it again, but I'm not going to buy it again. At least not until I try a lot of other Whiskeys. I'm not going to turn my nose up at a glass of Tyrconnel 16 Year, but for the price, I've got better options.
Color
Dark yellow with a little touch of murkiness.
Proof
46.0% ABV | 92 Proof
Pros:
Amazing nose.
Complex, layered malty-ness.
Just a hint of salt under a tidal wave of sweet, spice, and dry oak.
Hints at a dry white wine. If you like "dry" alcohol, this might be right up your alley.
Cons:
At $95 this is too rich for my blood. The cost to value just doesn't add up.
Tyrconnel 16 Year has some surprising rough edges. If you equate age with smooth, you might be in for a little dissonance with this whiskey.
At just about half the price, Knappognue Castle 12 Year is going to give you a lot more bang for the buck.