Glendalough Double Barrel Irish Whiskey has a lot of credentials. It won a Double Gold Medal at the 2015 San Francisco Spirits Competition, another Gold Model in 2017, and wasin the Wine Enthusiasts Top 100 Spirits in 2019.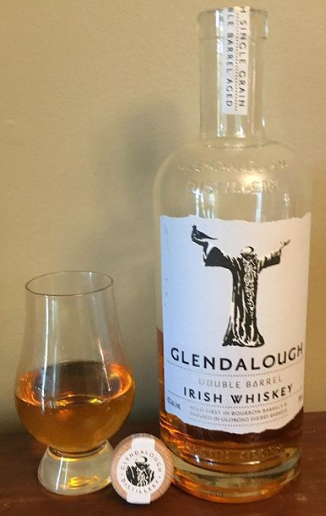 This Glendalough was first aged in American oak barrels, then finished in Spanish oak Oloroso Sherry barrels.
With all those credentials I was excited to crack the bottle open.
The Nose
I poured a dram into a Glencairn Whisky Glass and swirled it for a moment before taking a whiff. The nose is burnt oak mellowed by sweet vanilla. It was hard to pick which one hit me first. Each time I breathed in this Glendalough I picked up different notes.
The Palate
The mouth feel was smooth and creamy that coats the back of your throat in spice as you swallow. Just like the nose, I found that each sip brought out a different aspect of this whiskey. At times the spice was almost overwhelming, with the oak and spice turning to black liquorice on the swallow.
Glendalough Double Barrel is stilled using a column still. From what I can find, they use a Coffey Still, which was on of the first commercially available continuous stills.
Why does that matter? This Glendalough Double Barrel is shooting for pot distilled flavors and notes, but you just can't get there without using a pot still, which retain more flavors. Column stills tent to produce higher alcohol content, lighter flavored alcohols. Which is where this Glendalough Double Barrel comes in. It is trying to be a budget pot still in flavor, and actually does a decent job of getting there, but not all the way.
There are hints of deeper flavors from the time spent in the sherry casks, but the oak notes burn across a lot of the more subtle flavors.
The Score – Glendalough Double Barrel Irish Whiskey
For me this Glendalough Double Barrel Irish Whiskey scored a 74/100.
I will absolutely order a dram of this if I'm out and about, and it is clearly in the Sip Worthy category, but for me it didn't make it into my Whiskey Safe which means I won't be keeping an unopened bottle on hand to enjoy after the Zombie Apocalypse has started.
Color
Deep golden yellow.
Proof
42.0% ABV | 84 Proof
Pros:
The nose has depth and complexity.
Strong oak and toasted wood. If you like your whiskey on the stronger side of the flavor profiles, this might be for you.
Subtle sweetness that vies with the oak and sherry to be tasted.
Cons:
Never quite achieves the butter cookie notes I love in other Irish Whiskeys.
The toasted/burnt oak can really overpower the other tastes.