Ha'Penny is a blended Irish Whiskey that is aged in sherry, bourbon, and twice charred casks. Ha'Penny is bottled at 43% ABV (86°) by the Pearse Lyons Distillery and was $25 dollars. For those who aren't in the know, a Ha'Penny is a half penny and the modern version was last used in Ireland in 1986.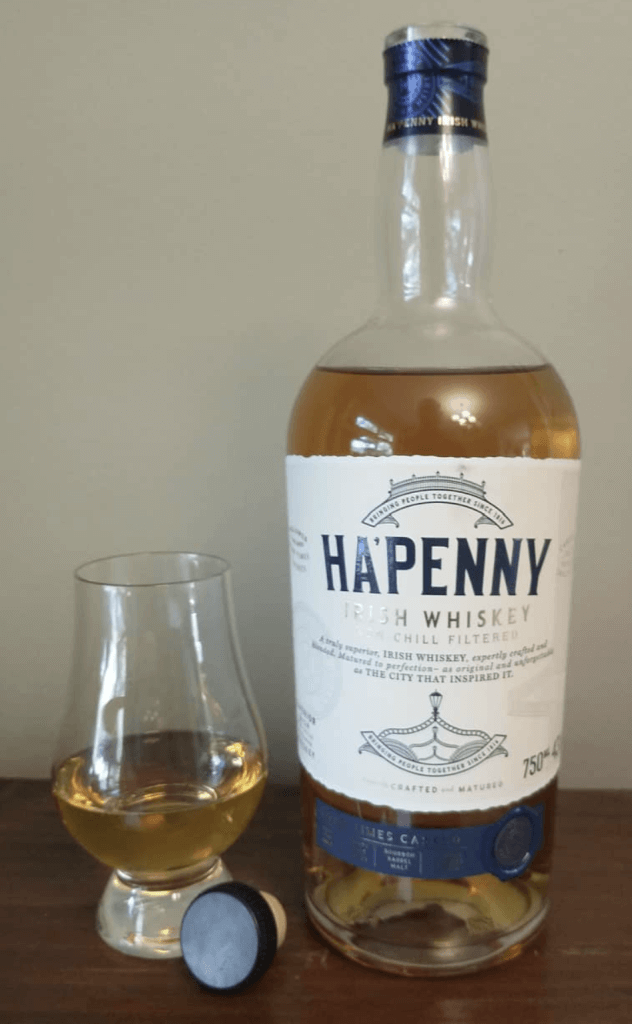 The Nose
First I cracked the bottle open, then I poured a dram into a Glencairn Whiskey Glass and swirled it gently to bring out the aromas. The nose is sweet, peppery, and ends on a bit of malt and rough edges.
The Palate
The mouth feel is clean and the front of the tongue is sweet fruit that transitions to malt on the middle of the tongue before finishing with pepper and a few jagged edges.
The Score – Ha'Penny Irish Whiskey
For $25 bucks this is a decent value, but at the end of the day I'm only able to give it a 64/100, putting it into Mixed Drinks Only territory due to its roughness and lack of overall balance. However, for $25 its worth trying, so let me know if you disagree with the score in the comments.
For me, I'll pay about the same and buy Jameson or Paddy's.
Color
Light Amber and Straw.
Proof
40.0% ABV
Pros:
Very affordable.
Has some nice complexity, even if it is paired with a bit of edge.
Cons:
Could have been so much more, but the rough edges cost this whiskey major points.