Kilbrin 10 Year Single Malt is distilled in pot stills from 100% malted barley. It is produced at just one distillery, at least according to their website. What distillery? I can't find that. There is a parish in County Cork by the name of Kilbrin, but there is no distillery there that I can find.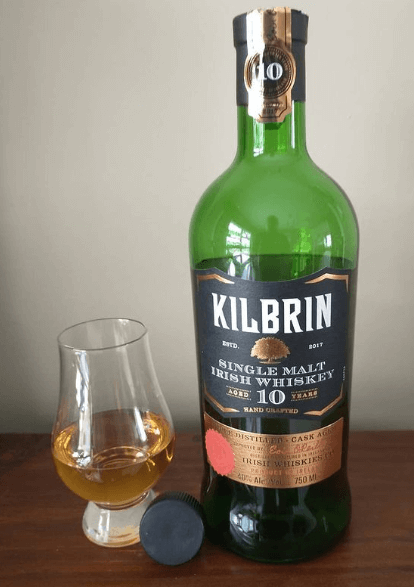 Based on the pieces I can put together from online research Kilbrin is a sourced whiskey. It's not available in Ireland, and it sounds like its basically purchased from other vendors, and bottled as Kilbrin. Let's see how it does!
The Nose
The nose is fruity and full of apples with just a hint of vanilla.
The Palate
The first sip is very approachable but the finish has a lot of alcohol in it. Enough that I feel it going up my sinuses and into the back of my throat. I feel like Kilbrin's distiller deserves a shout out for how it opens. The whiskey is pleasant on the front of my tongue and has a decent body. It starts so strong. Sadly it doesn't finish so strong. The finish is a bit rough, full of alcohol burn, and not nearly as smooth as I'd like from a bottle with a 10 Year age statement.
The Score – Kilbrin 10 Year Single Malt Irish Whiskey
Accordingly Kilbrin 10 Year Single Malt scores 52/100. Two things cost it points. The first is the rough finish. The second is the price. For a bottle in this price range that is combined with a 10 Year age statement I just need more.
Color
Dark yellow with a little touch of murkiness.
Proof
40.0% ABV | 80 Proof
Pros:
Entry level bottle with an entry level price.
Cons:
It is not sold in Ireland. If its not good enough for the Irish, its not good enough for me.
The opening hides a finish that hits with a bit of rough gravel on the swallow with strong notes of alcohol.
At a $50/55 price point, Knappognue Castle 12 Year is a much better option.