Grace O'Malley Believe in Grace is a new offering. How new? In honor of the 16th century Irish pirate queen, Grace O'Malley Spirits was launched in 2017. When it comes to distilling Irish Whiskey, anything under a few decades is incredibly young. The brand that would become Redbreast started in 1903. Jameson sprung to life in 1780!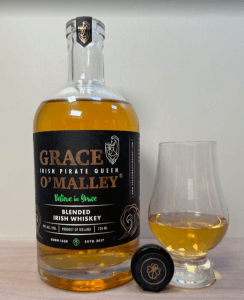 According to the Grace O'Malley home page, they've most recently won awards in 2021.

Now we get to see how a babe in the woods holds up to the long standing champs in the Irish Whiskey world. Will those awards hold up? We are about to find out.
The Nose
As usual I start by pouring a dram into a Glencairn Whisky Glass. I swirl it a little before nosing and sniffing very gently. The swirling really brings the alcohol forward, making it hard to appreciate the aromas hiding under the ETOH. Once the alcohol settles I do appreciate vague notes of vanilla.
The Palate
Grace O'Malley Believe in Grace has a clean mouth feel. There is just a hint of sweet on the tip of my tongue that hints at something nicer. Unfortunately that all falls apart once the whiskey gets to my mid tongue. What start as clean and mild goes wild on the mid tongue. Lots of edges that turn to a rough finish.
The Score
Grace O'Malley Believe in Grace scores a 31/100, putting it at the bottom of the Mixers or On Ice category. The rough finish really killed the enjoyment for me. Putting it over the rocks didn't actually help much. There are just a lot of jagged edges on this finish.
Color
A medium yellowish that reminds me to drink more fluids.
Proof
40.0% ABV
Pros
It is always nice to try a new Irish Whiskey.
I have a bottle to make Irish Coffee with now.
Cons
I just wasted $40.
At $40 there are way better options out there.