The Busker Single malt says it is a modern Irish whiskey that is smooth enough to drink straight, or perfect for a mixer, or in their own words:
The Busker Single Malt Irish Whiskey is born out of a modern Ireland, where the contemporary and bold meet at the crossroads of tradition. Smooth enough to be had alone or added as a delicious kick to your favorite mixed drink.
                      - Disaronno International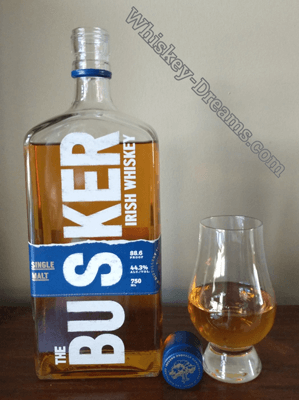 Now lets see how these claims hold up.
The nose is full of alcohol burn. There is maltiness hidden in there, but the nose really hits you with ethanol.
The first impression is alcohol, just like the nose, that turns to malt and transitions to a bit of butter cookie before finishing very rough. I was really not impressed with the overall mouth feel, the opening, or the very rough finish.
I was really surprised by this as I'd read a ton of positive feedback on "The Busker" brand Irish Whiskeys.
At the end of the day all I can guess is that The Busker marketing team is really good, and really aggressive. For me, The Busker Single Malt scores a paltry 4/100. Yes I drank it, but I didn't enjoy it, and while it did get me tipsy pretty fast, it also gave me a headache. For me, a headache usually means the quality of the bottle was slow.
At the $35 price point there are better options out there. I'd pass on The Busker Irish Whiskey if I were you. For $10 bucks cheaper you can pick up a bottle of Jameson, and for me, that is a much better buy.
Color
Medium toffee mixed with amber.
Proof
44.3% ABV
Pros
It tastes like it might power my lawn mower. Is that a positive? I couldn't think of anything to be honest.
Cons
Too expensive at $35.
The alcohol hits you on the nose and continues to hit you on the palate.
How can something give you a hangover while you're drinking it? This gave me a headache as I was drinking it.