Normal Redbreast 12 is bottled at 80 proof. Redbreast Cask Strength is bottled at 115 proof. The whiskey is not diluted with water nor chill-filtered. This leaves both a stronger taste profile and slight murkiness in color. Don't let it scare you though! This bottle is about smooth sipping, not burning your tongue with a high proof.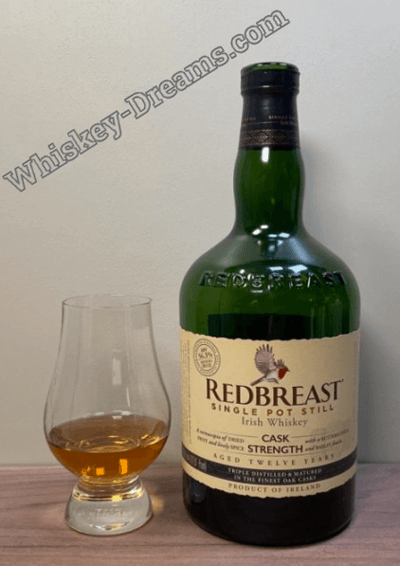 I live out in the sticks and don't have access to a good liquor store unless I'm willing drive an hour or so. That means that when I see a bottle I feel like I need to buy it because I'm not sure if I'm going to find it anytime soon again. I was with my brother when I saw this bottle of Redbreast Cask Strength. His reaction was shock. He drinks beer, so a $100 price tag was just crazy for him. He's not a whiskey snob (that's what my wife calls me) but I had to get it when I saw it. I should have gotten two bottles, because now that I've tried it, I know I'm going to want more.
The Nose
The nose on this Redbreast 12 Cask Strength is deep and rich. There is a hint of malt just under rich dark fruits which is perfectly balanced against the vanilla from the bourbon barrels. I can sit and sniff this dram all day. It is just as good as the sip. If you want to up your Nose game, this is a great bottle to appreciate. Pour a dram into a Glencairn Whisky Glass and enjoy.
The Palate
The mouth feel is crisp and clean. The front of the tongue is sweetness that immediately turns to dryness and fruitiness that finishes with a charred oak from the time spent in the bourbon barrels that coasts to a very subtle smokiness. It is complex and lovely. It is not for new drinkers, or at least I don't think most new Whiskey drinkers will appreciate it, but I could be wrong.
The Score
This cask strength Redbreast is all the goodness of Redbreast 12 but concentrated and powerful, but in a refined, balanced way that really just hits it out of the park.
This Redbreast Cask Strength is all the things I love about Redbreast 12, without the overly wooded notes from Redbreast 15, on steroids.
Redbreast Cask Strength scores a 97/100, making it the all time best whiskey I've ever had, and it earned every point.
Color
Deep amber with just a touch of murkiness.
Proof
55.8% ABV
Pros
Nose full of fruits and vanilla that is balanced perfectly by the oak from the bourbon.
If you like Redbreast 12 this is going to nock your socks off.
Perfectly balanced flavors that make for easy sipping.
Cons
Can you find it!
If you are on a budget, these bottles can hurt your wallet.