It was freezing cold when I was in Chicago the first week of January, and when I say freezing cold, I mean cold. My coworkers and I were not actually planning on going to the Blue Line Lounge & Bar, but we were freezing and the lights were on. We went in to get warm and ended up having a few drinks.
I ordered my usual Manhattan and enjoyed some good company and the warm interior of the bar. As soon as I tasted the Manhattan I thought I recognized it. After looking at the menu, I realized they were using Redemption Bourbon, which scored a 40/100 as a sipper. When I made this Redemption Manhattan at home, the Vermouth definitely helped smooth out some of the rough edges, and the score rose to a 53/100.
I'm going to say that the Blue Line Lounge and Bar Manhattan tasted about the same as what I made, so I'm holding to that score of a 53/100. As a whiskey bar, this place doesn't have a huge selection, and is about as good as any city bar, so I feel like it earned it place in the "If I Had Limited Choices" category.
On the plus side, they had a grilled cheese sandwich with beef brisket that was just amazing. If you are drunk (or getting drunk) I highly recommend adding the grilled cheese/beef brisket sandwich to your order. It was gooey, and the brisket had just the right amount of sweet and salty. It was perfect on a cold Chicago night to help soak up some of the alcohol.
On the price side, the Blue Line Lounge & Bar was low cost if you order a meal and a drink. Just like any restaurant, if you go nuts on the booze the price is going to rise.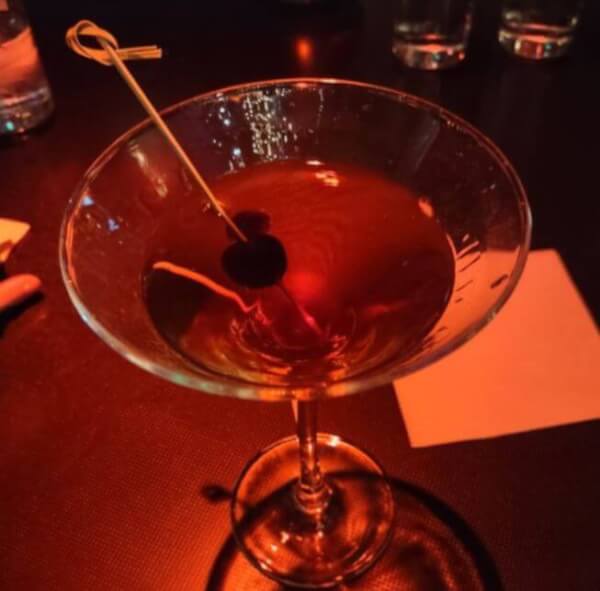 Place
Location
Score
Price Scale
Drink
Cinder Bar
Clarksboro, NJ
96
High Cost
Manhattan
Saltgrass Steakhouse
Orlando, FL
91
Moderate Cost
Manhattan
The Irish Whisper
National Harbor, MD
90
High Cost
Irish Whiskey
McCormick & Schmick's Seafood & Steaks
National Harbor, MD
80
High Cost
Manhattan
The Dead Rabbit
New York, NY
75
High Cost
Multiple
Iron Hill Brewery
Wilmington, DE
71
High Cost
Kentucky Connection
Cadillac Ranch
National Harbor, MD
70
Moderate Cost
Multiple
Harry's Savoy Grill
Wilmington, DE
67
High Cost
Manhattan
Boulevardier
Ted's Montana Grill
Newark, DE
66
Moderate Cost
Newly Fashioned
Creekside Inn
Woodstown, NJ
65
Low to Moderate
Manhattan
Alewife
Richmond, VA
63
High Cost
Manhattan
roanoke
Chicago, IL
55
High Cost
Black Manhattan
Blue Line Lounge & Bar
Chicago, IL
53
Low Cost
Manhattan
Da Andrea
New York, NY
50
High Cost
Manhattan
Negroni
Iguana Cafe
Chicago, IL
45
Moderate Cost
Manhattan
The Greene Turtle
Newark, DE
40
Moderate Cost
Manhattan
Restaurante Montserrat Manor
Punta Cana, DR
35
High Cost
Manhattan
Dave & Buster's
Deptford, NJ
30
Moderate Cost
Manhattan
Cock'n Bull
Lahaska, PA
26
High Cost
Manhattan
Old Fashioned
The Brass Tap
National Harbor, MD
25
Moderate Cost
Manhattan
Carrol's Creek Cafe
Annapolis, MD
21
High Cost
Manhattan
Big Fish Grill
Wilmington, DE
10
High Cost
Manhattan
The Legend
New Castle, DE
5
Low Cost
Manhattan
TGI Fridays
New Castle, DE
1
Moderate Cost
Manhattan

Cost Scale
Up to $30 per person – Low Cost
$31 to $50 per person – Moderate Cost
$51 and above per person – High Cost