We went to the Dave & Buster's in Deptford New Jersey with one of my older sons for fun, drinks, and games. It was the first time I've been in a Dave & Busters in decades, literally.
The food was basically upscale fast food, but the giant pretzel does stand out as being really good.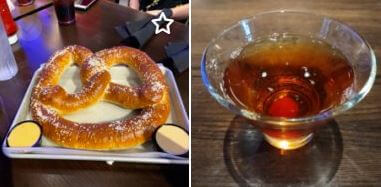 I went with my standard Manhattan, but they don't have a great Bourbon selection, so they were made with Makers Mark, which is okay, its just doesn't stand out to me as a great bourbon.
We were there for a while, and I think I drank four or five of these Manhattans, because the bartender came over and asked me if I enjoyed them, which of course I told him I did. The staff were really nice, and the bartender was a genuinely nice guy, so I really feel bad about giving Dave & Busters a score of 30/100.
To be clear, the staff were 100/100, but if you are a Whiskey drinker Dave & Busters shouldn't be on your list of places to go to enjoy a sip or two. When it comes to Whiskey, Dave & Busters I'd only go back If I Had Limited Choices. Add the fact that it's relatively expensive for fast food, and it just not my first choice.
Place
Location
Score
Price Scale
Drink
Cinder Bar
Clarksboro, NJ
96
High Cost
Manhattan
Saltgrass Steakhouse
Orlando, FL
91
Moderate Cost
Manhattan
The Irish Whisper
National Harbor, MD
90
High Cost
Irish Whiskey
McCormick & Schmick's Seafood & Steaks
National Harbor, MD
80
High Cost
Manhattan
The Dead Rabbit
New York, NY
75
High Cost
Multiple
Iron Hill Brewery
Wilmington, DE
71
High Cost
Kentucky Connection
Cadillac Ranch
National Harbor, MD
70
Moderate Cost
Multiple
Harry's Savoy Grill
Wilmington, DE
67
High Cost
Manhattan
Boulevardier
Ted's Montana Grill
Newark, DE
66
Moderate Cost
Newly Fashioned
Creekside Inn
Woodstown, NJ
65
Low to Moderate
Manhattan
Alewife
Richmond, VA
63
High Cost
Manhattan
roanoke
Chicago, IL
55
High Cost
Black Manhattan
Blue Line Lounge & Bar
Chicago, IL
53
Low Cost
Manhattan
Da Andrea
New York, NY
50
High Cost
Manhattan
Negroni
Iguana Cafe
Chicago, IL
45
Moderate Cost
Manhattan
The Greene Turtle
Newark, DE
40
Moderate Cost
Manhattan
Restaurante Montserrat Manor
Punta Cana, DR
35
High Cost
Manhattan
Dave & Buster's
Deptford, NJ
30
Moderate Cost
Manhattan
Cock'n Bull
Lahaska, PA
26
High Cost
Manhattan
Old Fashioned
The Brass Tap
National Harbor, MD
25
Moderate Cost
Manhattan
Carrol's Creek Cafe
Annapolis, MD
21
High Cost
Manhattan
Big Fish Grill
Wilmington, DE
10
High Cost
Manhattan
The Legend
New Castle, DE
5
Low Cost
Manhattan
TGI Fridays
New Castle, DE
1
Moderate Cost
Manhattan

Cost Scale
Up to $30 per person – Low Cost
$31 to $50 per person – Moderate Cost
$51 and above per person – High Cost