As always, remember that when I'm ranking a Whiskey Place, that is exactly what I'm doing. I'm primarily ranking it as a Whiskey Place, and while the food and setting can impact that, I'm really ranking the place based on if I'd go there solely to have Whiskey Dreams.
So how does Iguana Bistro + Cafe stand up? The staff were really nice, and there was a "Chess meat up" going on while we were there. It was interesting to see this smallish bistro turn into a very friendly game night. It made the place very homey.
On the whiskey side, I got a little worried because other than the martini list, and a Jameson Moscow Mule, I didn't really see any whiskey drinks.

They do have a bar though, and thankfully didn't blink when I asked for a Manhattan. Made with what? I have no idea. The waitress was zooming around and I'm not sure if there was also a bit of a language barrier. Just to be clear, I'm not complaining. She was really busy and got our drinks very quickly, she was just super busy and didn't have time to stand around and chat.
I'm guessing they used a rye whiskey. The sip starts very mildly sweet, then turns to cinnamon and finishes with a nice pepper and subtle wood char. Overall, a very nice Manhattan. I liked it so much I ordered another and enjoyed it as I watched a ten year old kid demolish three adults in quick succession in chess.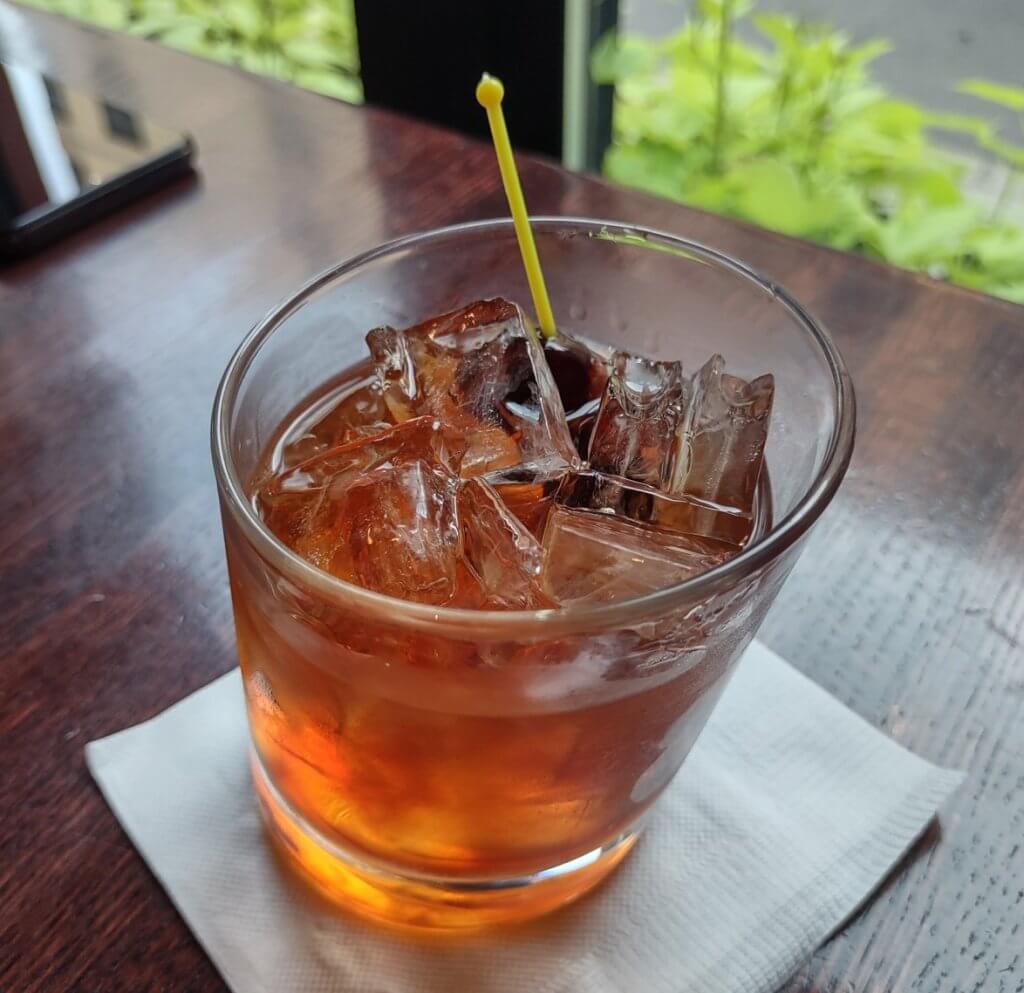 I didn't order any food, but one of my friends had a meatloaf sandwich and said they enjoyed it. I got the sense from everyone who was eating that the food was excellent.
As a Whiskey Place I've got to give the Iguana Café a 45/100. It is a nice café and I would go back for lunch to try the food, but it is essentially an upscale neighborhood bar with the whiskey's you'd find there.
Place
Location
Score
Price Scale
Drink
Cinder Bar
Clarksboro, NJ
96
High Cost
Manhattan
Saltgrass Steakhouse
Orlando, FL
91
Moderate Cost
Manhattan
The Irish Whisper
National Harbor, MD
90
High Cost
Irish Whiskey
McCormick & Schmick's Seafood & Steaks
National Harbor, MD
80
High Cost
Manhattan
The Dead Rabbit
New York, NY
75
High Cost
Multiple
Iron Hill Brewery
Wilmington, DE
71
High Cost
Kentucky Connection
Cadillac Ranch
National Harbor, MD
70
Moderate Cost
Multiple
Harry's Savoy Grill
Wilmington, DE
67
High Cost
Manhattan
Boulevardier
Ted's Montana Grill
Newark, DE
66
Moderate Cost
Newly Fashioned
Creekside Inn
Woodstown, NJ
65
Low to Moderate
Manhattan
Alewife
Richmond, VA
63
High Cost
Manhattan
roanoke
Chicago, IL
55
High Cost
Black Manhattan
Blue Line Lounge & Bar
Chicago, IL
53
Low Cost
Manhattan
Da Andrea
New York, NY
50
High Cost
Manhattan
Negroni
Iguana Cafe
Chicago, IL
45
Moderate Cost
Manhattan
The Greene Turtle
Newark, DE
40
Moderate Cost
Manhattan
Restaurante Montserrat Manor
Punta Cana, DR
35
High Cost
Manhattan
Dave & Buster's
Deptford, NJ
30
Moderate Cost
Manhattan
Cock'n Bull
Lahaska, PA
26
High Cost
Manhattan
Old Fashioned
The Brass Tap
National Harbor, MD
25
Moderate Cost
Manhattan
Carrol's Creek Cafe
Annapolis, MD
21
High Cost
Manhattan
Big Fish Grill
Wilmington, DE
10
High Cost
Manhattan
The Legend
New Castle, DE
5
Low Cost
Manhattan
TGI Fridays
New Castle, DE
1
Moderate Cost
Manhattan

Cost Scale
Up to $30 per person – Low Cost
$31 to $50 per person – Moderate Cost
$51 and above per person – High Cost